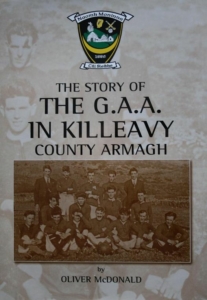 In 2015, former club chairman, Oliver McDonald, realised a long-held aspiration to record the definitive history of Killeavy GAC.  The result of years of meticulous research was 'The Story of  the GAA in Killeavy'  Oliver started the project back in 1991 when he interviewed some of the oldest members of the club about their memories of early days. Although the finished book was a long way off, Oliver had the foresight to know that these early recollections would be lost forever if not captured for posterity. Over the years, Oliver put together a collection of thousands of pieces of information from minutes of meetings to newspaper reports and photographs. The best of these have now been brought together in a magnificently illustrated and detailed club history that is a pleasure to read.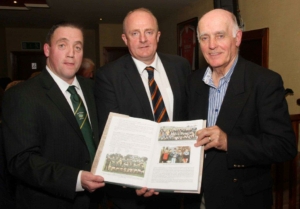 Sean Callan (Chair, Killeavy GAC), Paul McArdle (Cathaoirleach Coiste Contae Ard Mhacha) and author Oliver McDonald pictured at the Killeavy book launch 7th November 2015
The book went on to win the GAA's McNamee award for the best club publication of 2015.  Author Oliver McDonald was presented with his award by Uachtaran Cumann Luthchleas Gael Aogan Ó Fearghail in Croke Park.  The judges stated that "This publication was chosen for a number of factors, included the level of research conducted using a variety of sources into the club itself, the quality of the writing and the overall presentation including the liberal use of interesting photos."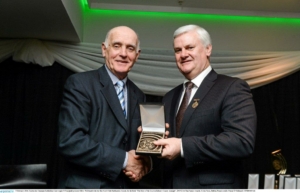 Some copies are still available by contacting the club.