Why the Memorial Park?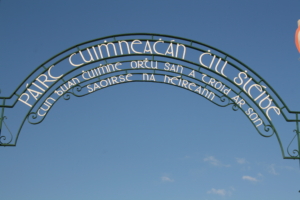 On 6th July 1921, four young men from our parish were taken from their beds and shot dead by Crown forces. John O'Reilly (25) was a teacher in Killean school and captain of the Killeavy senior football team and an established player on the Armagh county senior team. He was shot along with his brother Thomas (21), Peter McGennity (19) and Patrick Quinn (34). The O'Reillys and McGennity are buried in Killean graveyard while Patrick Quinn is buried in St. Mary's, Newry.
In the 1950s a committee was set up to provide a permanent memorial for these men and it was decided to fundraise for a new football field to be named Killeavy Memorial Park which was officially opened on 21st July 1957. Our gateway arch pictured above translates to "Killeavy Memorial Park – To commemorate those who fought for Ireland's freedom".
Killeavy GAC marked the centenary of their deaths in 2021 by laying wreaths on their graves after 11 am Mass in Killean.  The ceremony was attended by many members wearing their club colours.